When we talk about emergency locksmith services, a locksmith service that offers a 24/7 service is the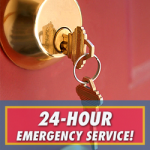 best option for such. Maybe you are locked out of your house or car early in the morning, you cannot wait for daybreak before you can get in. you need emergency locksmith services. Perhaps it is your office you are locked out of. You will not have to cancel the rest of the day because of that neither will your superiors understand that you could not submit a report that could have made the company millions of dollars because you were locked out of your office. You need emergency locksmith services.
If you also happen to have a lock related problem outside of business hours and there is no way you could afford not to solve the problem immediately, you need emergency locksmith services. We at Armen Locksmith Glendale provide a round the clock service that solve the lock related problems that our clients need to be solved immediately. Our 24/7 emergency response team will repair your spoilt locks in the shortest possible time. They also help in providing preventative security solutions to make sure that you are rest assured about the security of your homes, vehicle and possessions generally.
In case you just suffered a burglary or break in at the middle of the night and you need the lock change or repaired before morning, we are very much available to make it happen. We at Armn Locksmith Glendale offer a reliable emergency locksmith service for everyone. We offer services to people in homes, business owners, owners of facilities, properties, building managers etc. We also offer our services to car owners and owners of vehicles generally.  We offer services in emergency locksmith services, automobile locksmith services, rekeying and so on and so forth.
It is very important that you hire the services of a locksmith who is professional and experiences. As there are many crooks out there, be sure to see the license of your locksmith before you allow them to proceed to work on your vehicle. Only professionals are licensed and can give you the best locksmith services. Our locksmiths at Armen Locksmith Glendale are also very affordable. This means that they offer top notch locksmith services you can get in Glendale at the most competitive prices ever.
So what are you waiting for? Why not employ the services of a locksmith from Armen Locksmith? Contact us now and join the ever growing lists of our happy customers.